????? (Ithaca 37)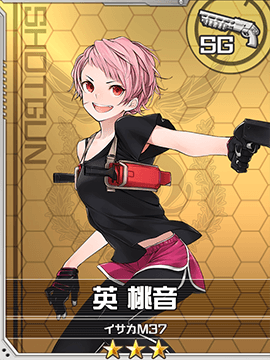 Bio
<CHARACTER STUFF. YADDA YADDA THIS IS PLACEHOLDER. SOMEONE WHO READS JAPANESE REALLY NEEDS TO COLLATE THE CHARACTER INFO FOR US>
Weapon Specifications​
Type: Shotgun
Caliber: 12, 16, 20, or 28 gauge
Capacity: 4, 5 or 7 round tubular magazine
Fire Modes: Pump-Action
The Ithaca Model 37 shotgun is the longest continuously-produced shotgun in U.S. history. Made in large numbers for the civilian, military, and police markets, it is a typical example of the Pump Action "Home Defense Weapon". Based on patents from 1915 by John Browning, the Ithaca 37 has been in use since 1933.
The Ithaca 37 is unique in that it both loads and ejects shells from the bottom ejection port, making it popular with both left and right handed shooters.
Character
Quotes
Trivia
The Ithaca 37 has a number of variations and styles. The card shows a Model 37 with a pistol grip.
Outside of the US Military, the largest users of the Ithaca 37 is the New York Police Department
Gallery
See Also
Community content is available under
CC-BY-SA
unless otherwise noted.