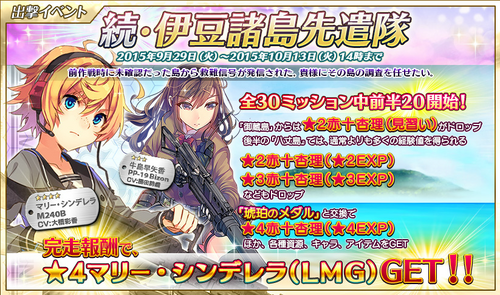 Duration
From 29-09-2015 to 13-10-2015
Info
In preparation for the event for the transfer students coming next term, we will be clearing out the UnKnown scattered about the Izu Islands.
Event Details, Specials
Around the islands, you can collect [Amber Medals] to receive various items as rewards.
Remember to collect your rewards and complete your missions before the maintenance on the 13th, as they will disappear afterwards.
Some example of the rewards:
10x = Scout Tickets x10
2000x, 4000x, 6000x = ★3 FP-45 (EXP Type)
7000x = ★3 PP-19 Bizon
9000x = ★4 M240B
10000x = ★4 FP-45 (EXP Type)
Note
Same as Unknown Core event, there will be some "special girls" which will give you bonus progression percent, amber medal and ATK. FN FAL is one of the girls. The others are KAC 6x35mm PDW, Mauser K98k and the 3 new girls from scouting: Magpul Masada, Benelli M4 Super 90 and FN Five-seven.
FP-45 (EXP Type), different from normal FP-45, when used in training will give your girls EXP instead of stats. ★2 will give your girls 1k exp, ★3 equals 10k exp, and ★4 equals 100k exp.
Island 3 - Hachijojima will be opened on Oct 6.
By 100% 1-10, you will receive 3 ★2 FP-45 (EXP Type). By 100% 2-10, you will receive 1 ★3 FP-45 (EXP Type).
There are 4 extra event quests, which worth 5/10 scout tickets each. They are:
Win Area 1-5 with an all AR team.
Win Area 2-6 without a medium-range girl (AR, LMG) in the team.
Win Area 1-10 without a SR girl.in the team
Win Area 2-3 without AR in the team.
Win Area 2-10 without a short-range-only girl in the team (HG, SMG, SG)/
Map List