PLEASE REFER TO THE TEMPLATE PAGE OF GUNINFOBOX FOR COLOR AND INFOBOX REFERENCES. THANK YOU.

Due to the increasing contributors in Shooting Girls, contributors have been editing this wiki in their own way. This is a good start for this wiki, but a evenually led with a problem with different formats in different page.
Today I'll talk about the page of Gun Girls.
Formats
To be serious, I've used the format #1 for the pages I've edited, but eventually another good format came up in other page.
We might need to vote for it, and it is even better if you have said your reason or what makes to be a good format for this game. Other format suggestions i.e. Kancolle Wikia's format, are allowed.
Also I've made a Template(Template:Guninfobox) in reference to Kancolle Wikia's Shipinfo cards to show all the stats of a girl.
Format #1
Info
Busujima Reina (毒島 玲奈)

"I'll defeat you today as well."

2nd year, class 5

Student number 1

Height: 168 cm

D cup

She inherited the PSG-1 her father was allowed to use for hunting during his lifetime. Her tall height gives her a sense of stability in operations, so her accuracy is very high. To avenge her late father, she aims her beloved gun again today.

PSG-1 - The Work of Art Created From Olympic Tragedy

A sniper rifle developed in the wake of the Munich Olympic incident - that is the PSG-1. After picking up the high precision accuracy from H&K's G3 rifle, this gun was produced by artisans, and because of that, the price is quite high. The explosive spread is difficult to work with, but it has a lot of experience from groups like special forces and elite troops who have adopted it.
Quotes
Character
Voice: Saki Fujita
Trivia
Gallery
See Also
Format #2
Karasawa Arina (AK-47)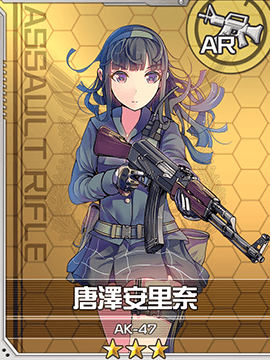 Bio
<CHARACTER STUFF. YADDA YADDA THIS IS PLACEHOLDER. SOMEONE WHO READS JAPANESE REALLY NEEDS TO COLLATE THE CHARACTER INFO FOR US>
Weapon Specifications​
Type: Assault Rifle
Caliber: 7.62x39mm
Capacity: 10, 20, 30, 40, 75 or 100-round box/drum magazine
Fire Modes: Semi-Auto/Full-Auto
The AK-47 is a selective-fire (semi-automatic and automatic), gas-operated 7.62×39mm assault rifle, developed in the Soviet Union by Mikhail Kalashnikov. It is officially known in the Soviet documentation as Avtomat Kalashnikova.
Probably the most famous firearm of all time, the AK-47 is known for it's long service life, resilience to damage, ability to operate under even the worst conditions, and an above average stopping power. The AK platform has saw more active service than any other rifle in the world.
Character
Seiyuu: Fuchigami Mai
Artist: [1]daito
Quotes
Trivia
One of the three starter girls for players to choose from. (This is likely because of the AK-47's reputation, and it's role as the most common rifle in the world)
Very few real AK-47s are ever seen. They are usually Egyptian or Chinese clones. In fact, almost no real AK-47s have ever been used in Hollywood films or TV.
The Russian Military still maintains the largest stockpile of original AK-47s, and has sold almost none of them.
Gallery
See Also
Format #3 (My suggestion)
This is made with my template.
Character Info
???

No. 87 多々良 緑

RSAF Enfield Bren

(normal/fast/special)
Statistic
HP
1568(????)
CT
100(100)
Firepower
1245(????)
Accuracy
471(????)
Defense
582(????)
Evasion
234(????)
Speed
395(????)
Luck
105(????)
Range
2-3
Terrain
(Data)
Equipment
Slot 1
Lv. 1 Required
Slot 2
Lv. ? Required
Slot 3
Lv. ? Required
Slot 4
Lv. ? Required
Slot 5
Lv. ? Required
Skill
(Name)
[(leader skill/low chance/moderate chance)]
(Data)




Character Description

"早く終わらせて、ご飯食べるんだからッ!!"(Translate to English)

1st year, class 4

Student number 15

Height: 148 cm

"(Character Description in Gun List (生徙名簿) ."

RSAF Enfield Bren - Squad Supporting Firearm That Supported The Advance Of British Army

"イギリス製の軽機関銃なのがこの銃なの。もともとはチェコスロバキアで開発されたZB26機関銃で、これを.303ブリティッシュ弾に変更したライセンス生産モデルなのよっ♪ 銃身先端部にバイポッドが標準装備され、車への搭載もできちゃう!! あと、弾倉が本体上部にあるから、ガンナーは伏射によって姿勢を低くして被弾率を抑えちゃうんだからね。"(Translate to English)

Skill: Owl's Eye

(Skill Description here)
Quotes
| Event | Japanese | English | Trivia |
| --- | --- | --- | --- |
| | | | |
(Will be a template later.)
Character
Voice: 重野菜緒
Trivia
Gallery
See Also
Community content is available under
CC-BY-SA
unless otherwise noted.